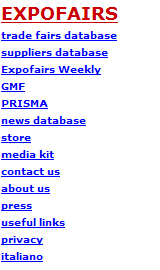 Pianeta publishing company, since the very beginning back in 1983, showed an interest for the exhibition trade. Maybe because of the specific disposition of the founder, Giovanni Paparo, instead of limiting to a single field they decided to cover the wide spectrum of manufacturing activities: what's more colourful than the exhibition trade?

It was not by chance that in June 1988 the name PRISMA was chosen for the first issue of the magazine which, over the years, reinforced more and more its ties with the world of trade shows and congresses and it became a real milestone for the trade.

Such an interest in trade fairs brought Pianeta to create and run the world's most complete and up-to-date database about trade shows, from which the well known GMF - Int. Trade Show Directory originates (formerly 'Fiere ed Esposizioni in tutto il Mondo'), a leading publication by the number of fairs reviewed and the amount of information offered.

Since 1999 the products of the publishing company no longer restrict to printed matter and, following the developement of the new media, the Expofairs.com portal is introduced. In little time the portal experiences a significant growth in the number of visits, thanks to its completeness and ease of use.

In 2002 Pianeta launches SFI - Exhibition-Congress System Italy, a supplement of PRISMA magazine that publishes the Italian trade show calendar of the relevant period of time, extensive lists of companies offering services for trade fairs and congresses and many in-depth features on specific topics.

With the aim of further improving the information available to the trade professionals, Pianeta focuses its efforts on the news section of the portal and on the enlargement and refinement of the suppliers database.